Pumps
The choice of your pump stems from many factors. Nevertheless, it is necessary to make sure that it meets your needs for water supply and that it has a good pumping capacity. In fact, the pump must be able to supply enough water for all your appliances and for your personal water consumption. The pump must also be adapted to your well (size, depth of pumping, length of pipes, etc.) to make a level of performance sufficient for your water consumption. Our experts in water collection can advise you directly on site at an estimated or in-store. We will know with you find the optimal solution for your well and your water needs.
Pompes Traitements d'eau Bernier Inc. offers 3 types of pumps to perform your water collection works, the submersible pump, centrifugal pumps, lake and sewer pumps.
Complete service in 3 steps:
Sales and repair service at the shop or in your home
Expert advice to determine your needs
Pump installation
Submersible pumps
The complete set of the submerged pump, including the motor is installed in the well below the water level. There is a wide variety of submerged pump models that can meet all water depth and power supply conditions. Nevertheless, this type of pump can usually draw water at depths of up to 300 metres. This type of pump is therefore strongly recommended in the case of artesian wells.
Our line of 4" stainless steel submersible pumps is designed with such precision that they will provide you efficient, reliable service. In addition, they will provide many years of service, even when the water is abrasive (sandy).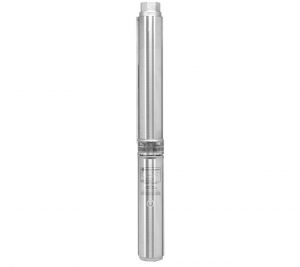 Centrifugal Pump
The motor of the deep well injector pump has the particularity of being installed outside the well. This pump consists of a ground level pumping unit and an injector assembly located in the casing just above the water intake. This system can pump water effectively to a depth of about 20 metres, a deeper pumping will result in reduced yield. This type of pump is therefore strongly recommended in the case of surface wells or artesian wells of less than 20 metres.
If the surface well is located near the home, this pump provides a low-cost solution to homeowners
Lake pumps
You can install a pump to draw water from a lake. However, you must apply to the municipality and follow special techniques to avoid affecting the water source. Many things must be taken into consideration when you want to pump water from a lake.
Our team considers three things:
The overall quality of the lake water in order to determine the need for water treatment
How you will generally use the water
The average cost of an artesian well in the area
Sewer sump pump
Because these pumps usually work in very difficult environments, we use robust pumps with mechanical switches to ensure a maximum lifespan.
Feel free to contact us to determine what pump best meets your needs!