Our history and awards
In 1949, with the support of his wife, Emile Bernier began crisscrossing the region to dig wells for his customers. In 1976, his son Roch, who was only 5 years old at the time, started to accompany his father to the worksites. This is when the love story began, and Emile Bernier became a mentor and a role model for his son.
Over the years, Roch learned the basics of the trade while continually seeking to go further and to learn more in order to continue his father's legacy.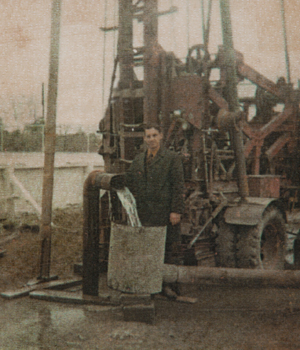 A life-long passion
For many years, the company's head office was Roch's private residence. Surrounded by pumps and water treatment equipment, he was very eager and worked many evenings every week as well as weekends in order to meet customers to satisfy their urgent needs. Through this very busy schedule, he found the time to offer an emergency service 7 days a week.
A local business
The desire to provide quick, courteous service to his customers compelled Roch to stay in Estrie and surrounding areas as much as possible in order to be better able to serve this customer base.
This local focus enabled Roch to enhance his knowledge of the local lands and thus anticipate the kind of soil his customers' lands might contain in order to provide the right equipment to get the job done.
Our awards
Over the years, we have been awarded many times for our work excellence. We won Pompco's Dealer Excellence Award because we are the company with the lowest rate of warranty returns in Canada, which is an indication of a well-designed, very reliable pumping system.
We are proud to highlight the distinctions we have received over the years for our excellent work.
Our 12 distinctions in the field
APCHQ Member in Good Standing
Licensed contractor with the Régie du bâtiment du Québec
10 Year Recognition Award, Aqua Filtration, 2006-2016
Best Performance in the Estrie Region, Aqua-Filtration, 2016
Professional Recognition Award, Aqua Filtration, 2010-2016
Elite Dealer Certification, Pompco, 2006-2016
Dealer Excellence – Pompco, 2006-2016
Key Dealer – Franklin Electric, 2007-2016
Platinum Dealer – GE Water & Process Technologies, 2006-2016
Winner (6 to 20 employees category) Fleurimon Chamber of Commerce Gala, 2004
Business of the Year, Fleurimont Chamber of Commerce Gala, 2004
Member of Fleurimont and East-Angus Chambers of Commerce