Artesian wells
An artesian well is a 6- or 8-inch diameter hole that we drill in order to draw water. We usually drill to a depth of more than 50 feet. A pump is installed in the drilled hole to supply water to anything you need, such as your home, your garage, your barn, etc.
The advantages of artesian wells
Artesian wells are what we prefer to install for our customers. Why? Quite simply because there is a lower risk of contamination and they are more stable in terms of water quantity and quality. This advantage results from the depth of the well: contaminants that may exist at ground level will not come into contact with your water.
Special cases
If the well is too close to a risk area or if the bedrock is less than 5 meters deep, you will need a collar to seal the well from surface water infiltration. In this situation, our experts will make a larger bore in order to be able to insert the seal that will protect the well from that infiltration.
Our methods
Our team can deploy different drilling techniques according to your situation and your ground.
Blasting
Hydraulic fracturing
Dry Ice
Spraying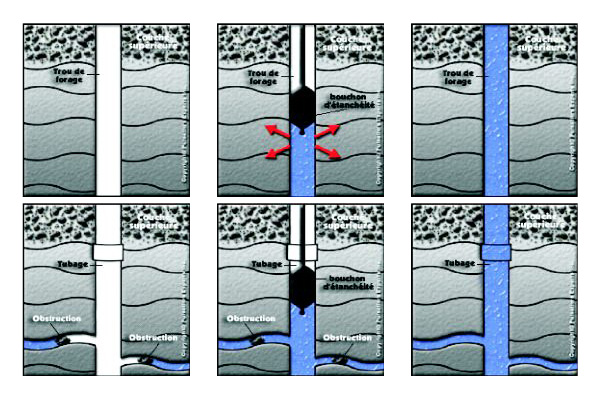 Drilling costs vary greatly depending on the depth of the well to drill, the amount of water needed, the ground's composition and many other variables beyond our control.
Drilling Methods
Pompes Traitements d'eau Bernier use two drilling methods to achieve your well.
Rotary drilling machine
Percussion drill
Don't wait! Ask for a free estimate for your future well!